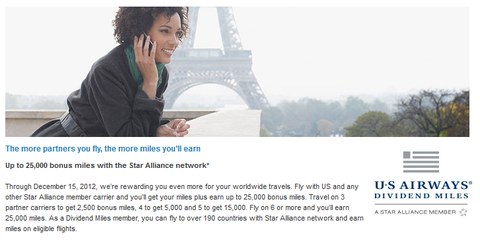 링크: http://shopping.usairways.com/promotion/dividendmiles/registration.aspx?PromoCode=AIRP
Up to 25,000 bonus miles with the Star Alliancenetwork*
Through December 15, 2012, we're rewarding you even more for your worldwide travels. Fly with US and any other Star Alliance member carrier and you'll get your miles plus earn up to 25,000 bonus miles. Travel on 3 partner carriers to get 2,500 bonus miles, 4 to get 5,000 and 5 to get 15,000. Fly on 6 or more and you'll earn 25,000 miles. As a Dividend Miles member, you can fly to over 190 countries with Star Alliance network and earn miles on eligible flights.
*Registration required. Registration begins on September 10, 2012 and will continue until December 15, 2012. All travel must take place between September 10, 2012 and December 15, 2012. All Dividend Miles terms and conditions apply. US Airways reserves the right to interpret and apply promotion rules. This promotion is not a game of chance, lottery or contest. The mileage amount earned is cumulative; the maximum miles an individual can earn in this promotion is 25,000. The bonus miles awarded are not Preferred-qualifying miles, however flight miles earned on Star Alliance partners are Preferred-qualifying. At least one US Airways flight must be flown September 10 – December 15, 2012 and each carrier is counted only once during the promotion period. For example, multiple segments flown on United only count as one partner. Once bonus miles are earned, the miles will post 7-14 days after flight activity is completed, however flight miles earned on partner airlines will take longer. Only segments in an eligible mileage accrual class will be counted toward the promotion, award tickets will also not be counted. Members may only participate in the promotion with one Dividend Miles account. If a member is found to be participating with multiple Dividend Miles accounts, all bonus miles earned from the promotion will be forfeited and removed from the member's account. Retro requested miles will count toward the promotion if requested before June 15, 2013. US Airways is not responsible for the quality or delivery of goods and/or services provided by Dividend Miles partners. All Dividend Miles partner terms and conditions apply. Flight purchases can be made on usairways.com. Your Dividend Miles number must be entered at time of booking.
See FAQs for further details.