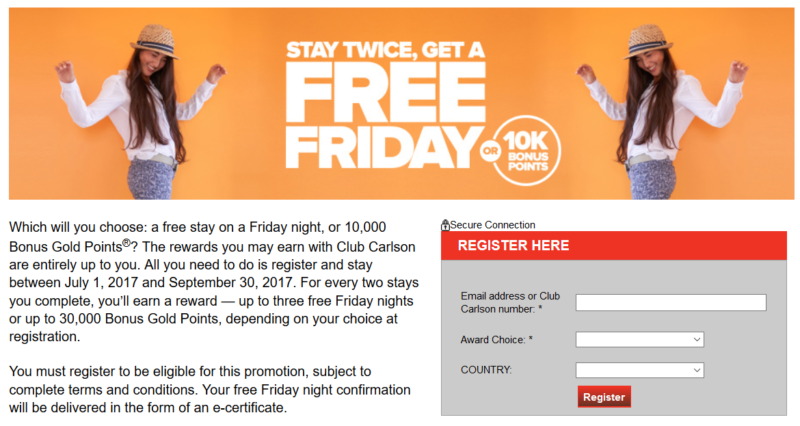 링크: https://www.clubcarlson.com/secure/offers/12879328
클럽칼슨에서 오랜만에 보는 무료숙박권 프로모션 이네요.
2번 투숙(2QS) 후 금요일만 사용 가능한 무료 숙박권 1개를 제공하며 최대 3개까지 받으실 수 있습니다.
물론 금요일만 사용가능해서 3개를 받으셔도 연박으로 사용이 불가능 합니다.
발급 받으신 무료 숙박권은 10월 6일부터 2018년 1월 26일까지 사용 가능 합니다.
T&C for Free Friday Night –
By participating in the "Stay 2, Earn a Free Friday Night or 10K Points" offer, you may only select one of the following offers (either the "Free Friday Night" promotion or the "10K Points" promotion) during the Promotion Period in accordance with these terms and conditions.
You must be a Club CarlsonSM member to participate in the "Free Fridays" Promotion ("Promotion"). Promotion is valid for Eligible Stays only. An "Eligible Stay(s)" is one or more consecutive nights reserved at an Eligible Rate booked through an eligible booking source, as defined in the Club Carlson Terms and Conditions, and consumed between July 1, 2017 and September 30, 2017 ("Promotion Period"). Both the check-in and checkout dates of the Eligible Stay must take place within the Promotion Period. To be eligible to earn the Free Friday Night E-Cert ("Friday E-Cert") for every two Eligible Stays, you must: (i) register online for the Promotion and make your reward selection at clubcarlson.com/freefridays; and (ii) then provide your Club Carlson member number at the time of reservation or at check-in. Members are not able to switch their reward choice after registration and the selection is for the entirety of the Promotion. Once registered, you will earn a Friday E-Cert with two Eligible Stays at Quorvus Collection, Radisson Blu®, Radisson RED, Radisson®, Park Plaza®, Park Inn® by Radisson and Country Inns & Suites By CarlsonSM hotels worldwide during the Promotion Period.
Friday E-Cert earnings for the entire Promotion (Free Fridays) will be capped at three awards per member – three Friday E-Certs. Stays or nights paid for by using Points or Points + Cash are not eligible for this Promotion. You only need to register once, but you must register before checkout of your first Eligible Stay for that stay to count for this promotion. Requests for free nights or bonus points for stays prior to Promotion registration will not be honored.
Friday E-Certs are valid for reservations on a single Friday night at any Quorvus Collection, Radisson Blu®, Radisson RED, Radisson®, Park Plaza®, Park Inn® by Radisson and Country Inns & Suites By CarlsonSM hotels worldwide for stays between October 6, 2017 and January 26, 2018. Each Friday E-Cert is valid for a new reservation booked on a Carlson Rezidor Hotel Group website using the unique Friday E-Cert code provided. Separate reservations may be made for additional nights before and/or after the Friday night reservation. The Friday E-Certs will expire on January 26, 2018 and cannot be extended. Friday E-Certs used on a reservation that is cancelled within the hotel's cancellation policy and before the expiration date may be re-used. All incidental charges, such as gratuities, parking, resort fees, room service and room entertainment are excluded. Friday E-Certs are not valid for existing reservations and may not be used in conjunction with packages, promotions, group, convention or discounted rates, or used in combination with other gift certificates, e-certificates or vouchers. Friday E-Certs must be reserved by the earning member, may only be used once, and may not be assigned, transferred, brokered, bartered, sold, posted online or altered in any way. Friday E-Certs have no cash value. Void where prohibited by law.
Friday E-Certs will be awarded three times throughout the Promotion, 1) by Aug. 15 for E-Certs earned in July, 2) by Sep. 15 for E-Certs earned in August and 3) by Oct 15 for E-Certs earned in September. You will be notified you have a Friday E-Cert via email and awarded Friday E-Certs will be visible under 'My Account' when you are logged in on clubcarlson.com.