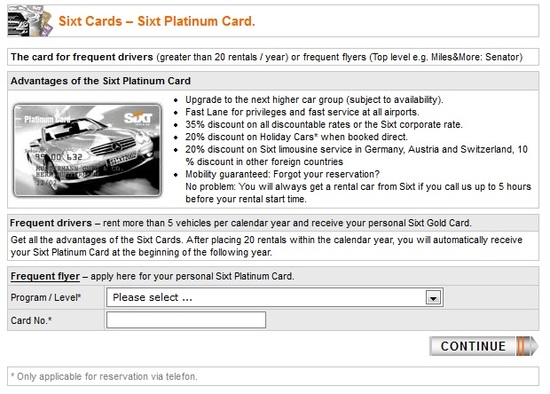 SixT 는… 전세계(한국포함)에서 영업 중인 글로벌 렌트카 회사 입니다.
멤버쉽은 무료이며…. 일반 등급은 그냥 가입 가능하십니다.
하지만… 호텔 또는 항공사에서 elite 회원이신 분들은…
몇몇 국가의 개별 SixT 홈페이지에서 SixT 의 골드 또는 플랫 회원 가입을 하실 수 있습니다.
(SixT 대표 사이트인 sixt.com 에서는 골드까지만 가입 가능)
SixT 골드 가입 조건 –
하얏 플랫, 힐튼 골드, SPG 골드, 델타 실버 등… 호텔, 항공사 멤버쉽 중위 티어 멤버
가입 링크: http://www.sixt.mn/en/goldencard_more.php
SixT 플랫 가입 조건 –
하얏 다이아, 힐튼 다이아, SPG 플랫, 델타 골드이상 등…. 호텔, 항공사 멤버쉽 상위 티어 멤버
가입 링크: http://www.sixt.mn/en/platiniumcard_more.php
SixT 골드 혜택 –
No Rental Formalities:
Your personal data is stored behind the card, no waiting time at the arrival location and easy payment due to your stored credit card information.
Low Self Service rates:
Ask about special rates when booking or have your company rates stored.
Up to 10%* discount on Sixt rent a car and Sixt rent a truck.
20% discount on Sixt limousine service in Germany, Austria and Switzerland. 10% in other countries.
For each rental with Sixt, collect valuable:
Miles with our airline partners
Points with our hotel partners
SixtMobile with no limits: Mobile, PDA, iPhone, Blackberry, Android:
With the SixtMobile application you can reserve you car anytime, anywhere. Additional information available under Mobile reservation.
Sixt flexi-rent:
Long-term commercial vehicle rentals at very competitive prices – a cross between contract hire and daily rental, combining the best parts of both products.
Preferred Mobility:
Forgot to book your rental car? No problem. Sixt prioritizes your reservation when calling up to 48 hours prior to your rental start.
Sixt Quick-Check-In:
rent your car directly at the Sixt Quick-Check-In machine. The only requirement for this service is that a reservation must have already been made.
Sixt Mobile-Check-In:
With or without a reservation – choose a car and close the rental agreement by phone – on arrival go directly to the key safe.
24h -Sixt Assistance:
In case of an accident or breakdown, we provide assistance free of charge and provide a substitute car if needed.
The Sixt Platinum Card offers you even more advantages, which you can receive after having at least 20 rentals in a year.
SixT 플랫 회원은… 골드 혜택 + 지정 카운터 이용, 35% 할인, 업글 등… 추가 혜택이 있습니다.
델타 마일 적립하시는 분들은 델타 링크로 예약 하시면 추가 마일 적립이 가능 합니다.
링크: http://partner.sixt.de/delta/reservations-and-promotions/rent-a-car/?L=1